---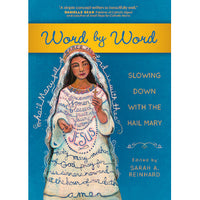 Most Catholics can recite the Hail Mary but haven't actually reflected on the meaning of the prayer. Blogger and author Sarah Reinhard invited forty of the most popular Catholic voices, including Lisa M. Hendey, Lisa Mladinich, and Brandon Vogt, to write a brief reflection on one word of the Hail Mary.
In Word by Word: Slowing Down with the Hail Mary, popular Catholic author Sarah Reinhard compiled an accessible, profound, and unique meditation on each word of the Hail Mary, one of the most important prayer traditions in Catholic life. Each of the reflections encourages readers to "slow down" with the Hail Mary and experience previously unseen dimension in the popular devotion, making it come to life in a new way. This unique, formative, and informative exploration of the beloved prayer is a gift to anyone who wants to be continually changed through it—learning to slow down and examine things more closely. 
The book is based on a blog series Reinhard facilitated with popular Catholic writers and social media experts, including Lisa M. Hendey, Brandon Vogt, Paula Huston, Kate Wicker, Pat Gohn, Kevin Lowry, Lisa Mladinich, Donna-Marie Cooper O'Boyle, Fr. Patrick Toner, and Jeff Young.  
Features & Benefits:
The book will draw from different readerships and audiences familiar with Sarah Reinhard's work through columns and blogs, including

 

CatholicMom.com, National Catholic Register, Integrated Catholic Life, Catholic Exchange, Happy Catholic Bookshelf (Patheos), and The Amazing Catechist.
160 pages. Paperback.