---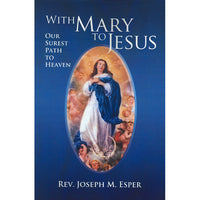 With Mary to Jesus, Our Surest Path to Heaven very beautifully illustrates that Mary is our powerful helper and example in our efforts to remain faithful followers of Jesus, Who is the only source of our Salvation. 

Blessed Mother Mary as her Son's most perfect and devoted disciple, has a deep and personal concern for the well-being and eternal salvation of each of her children, and nothing-especially not the powers of hell-can prevent her from protecting and assisting those who seek and accept her intercession. 

The Virgin Mary was truly heroic in her generous love, her humble obedience, and her spirit of complete self-sacrifice. Rather than being a "Plastic Saint" she was, and is a living person-one who loves us more than we can imagine and one who in turn deserves our highest possible love and respect. Coming to know Mary in a profound personal way, and coming to love her as our Mother, is indeed a simple and reliable way of learning to know and love Jesus, and thus a certain path leading to eternal life. 

Father Joseph Esper provides a wealth of information such as what the Church teaches about Mary, the Marian Dogmas, Marian Apparitions, stories of Mary's powerful intercession, Marian Apologetics and Marian devotions. Much will be learned from the reading of With Mary to Jesus, Our Surest Path to Heaven most especially that we have a Mother who loves and cares for each of her children, such is the will of God the Father. 
168 pages. Paperback.