---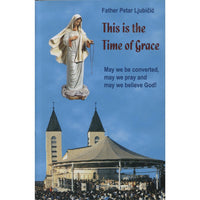 At no time and in no place in the history of mankind have there been apparitions of this nature and of such duration as in Medjugorje. Six visionaries have been so fortunate as to see Heaven unveiled and to speak to our heavenly Mother, Saint Mary. She loves us all deeply.
In Medjugorje, she tirelessly appeals to us to work on our daily conversion. It is her wish that our life be worthy, like a prayer; that we be true believers in God; that we entrust ourselves to Him. She says renunciation is necessary for spiritual growth. We should go to Confession frequently.
Holy Mass is the pinnacle of our Christian life, being, to the truly faithful, the communion and source of our spiritual life.
How devoted Our Lady is! We have now seen wonders and have heard her earnest, motherly entreaty for over 25 years. She herself said she has stayed so long in order to help us withstand the temptations of our time. She would like to obtain for us the graces needed for our salvation, so that we belong to her and to God always.
Whoever takes her recommendation seriously and tries to put it into practice in his life will find peace, as well as true contentedness and joy. This is the aim of Our Lady's apparitions. She hopes we may all be worthy of spending entity in Paradise. The most important time of our lives is now. Let us make as good use of it as possible!
Discover here the meaning of the events in Medjugorje and also how to turn every moment of life into a moment of salvation.
Father Petar was a priest in Medjugorje for many years, gaining valuable experience through ministering to pilgrims from various countries. In his new book, This is the Time of Grace, he endeavors to help us make better use of any and every moment of our lives. We are living in an era of grace and salvation!