---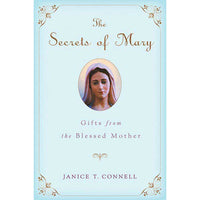 Through the centuries, the Virgin Mary has appeared to ordinary people of every race and culture, bringing forth her messages of love, peace, and comfort. In these trying times, Mary's protection is needed more than ever. In The Secrets of Mary, Janice T. Connell chronicles messages Mary has brought from God, drawn from scripture, experts, and eyewitness accounts. Mary's voice provides a guiding light for modern times, as she explains how to solve problems that are surfacing throughout the world.
Janice T. Connell's newest collection of stories includes:
• Saint Augustine's discovery of Mary's power
• Insight from the world-famous children of Medjugorje in Bosnia
• A famous Washington, D.C. media anchor's touching encounter with the Blessed Mother
• The author's own awe-inspiring experience with Mary in Japan
• And much more.
Filled with beauty, wonder, and joy, The Secrets of Mary provides comfort and inspiration to all those who desire Mary's gifts.
352 pages. Paperback.