---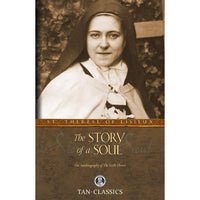 by: St. Therese of Lisieux


The incredible autobiography of St. Therese of Lisieux, better known as "The Little Flower". The success of this book is one of the most amazing stories in publishing history, for St. Therese died at only age 24, after a 9-year hidden life as a cloistered Carmelite nun. Millions of copies have been distributed worldwide in many languages.
Written under obedience, the book conveys her secrets of great holiness achieved in ordinary life, teaching the "Little Way of Spiritual Childhood" - her "elevator" to heaven, as she called it.
And this is the famous book that was instrumental in bringing down the "shower of roses", or favors from heaven, which St. Therese had promised to send after death.
"I will spend my Heaven doing good upon earth" - St. Therese
"After death I will let fall a shower of roses" - St. Therese