---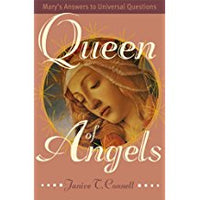 by: Janice T Connell
From the bestselling author of Meetings with Mary and Queen of the Cosmos comes a collection of Mary's most profound and comforting messages—her answers to universal questions.
Mother Mary has visited believers throughout the centuries, bringing profound messages of love and comfort. Beloved by people of all faiths, she invites us into the Heart of God, where we receive the gifts of peace and wisdom.
Now we can all benefit from Mary's words. Drawing from sacred scripture, tradition, and the recognized apparitions of Mary, bestselling author Janice T. Connell has organized the Blessed Mother's messages by topic to address concerns we face every day. Whether we are lonely, overwhelmed, or frightened, Mary has the solution for what troubles us. She leads us from suffering to joy, from misfortune to opportunity, from desire to fulfillment. She teaches us to love, as God would have us love.
Mary's knowledge and kind counsel bring us calm, courage, and strength. The meditations and prayers in this book lead us further along our spiritual journeys. Graceful, timely, and compassionate, Mary's words will help us overcome our difficulties and open our hearts to the remarkable power of God's love.