---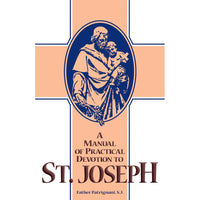 by: Father Patrignani
This remarkable book tells the story of the many, many gifts and even miraculous favors which St. Joseph has granted to the dying, to travelers, to those whose salvation is in danger, to those who aspire to great holiness, to those in temporal want, to the Carmelite Order, and to the entire Church. Married persons, those who instruct the young, religious, priests, interior souls, artisans, and even sinners should adopt St. Joseph as their special patron.
A Manual of Practical Devotion to St. Joseph shows how to be truly devoted to St. Joseph, and how to place oneself under the protection of this humble man who was honored and served by Our Lady and the angels. Herein is recounted the role this great saint has played in the history of the Church, the devotion of many saints to St. Joseph, and statements of learned men on the foster father of Our Lord.
350 pages. Paperback.