---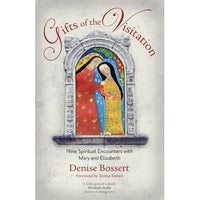 The biblical encounter between the Virgin Mary and her cousin Elizabeth, before the births of Jesus and John the Baptist, is at the heart of Gifts of the Visitation by popular speaker and syndicated columnist Denise Bossert. She uses their story to highlight nine gifts experienced by both women as they awaited the arrival of their sons and to encourage readers to develop these gifts themselves.
In her debut book, speaker, columnist, and Catholic convert Denise Bossert showcases the seasons of birth, grief, newness, and challenge experienced in the hearts of Mary and Elizabeth at the Visitation and invites readers to see these times in their own lives as opportunities to let God make all things new. Within each of those seasons, nine gifts emerge—spontaneity, courage, joy, readiness, humility, adventure, hospitality, wonder and awe, and thanksgiving—equipping readers to present Christ to the world as Mary and Elizabeth did.
Bossert's encounter with Mary, which led her to Catholicism, serves as the window for discovering and exploring the gifts and helps readers look inside their own hearts to discover what the gifts of the visit between Mary and Elizabeth mean to them and how they can be Christ-bearers to others.
Features & Benefits:
Relates Bossert's pivotal conversion story, beginning with her struggle to accept and ultimately encounter Mary. Readers experience a new understanding of the Visitation on a personal and relatable scale.
Typically the Visitation is explored in the context of Jesus' birth and reign, but Bossert's book provides a different angle in exploring the gifts of the Visitation. Those gifts will inspire and change readers' lives as they share these gifts with the world.   
160 pages. Paperback.