---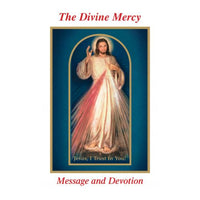 Saint Maria Faustina Kowalska
A revised edition with selected prayers from the diary of "St. Maria Faustina Kowalska". This booklet presents the message of The Divine Mercy and the special forms of devotion to The Divine Mercy that are outlined in the "Diary of St. Faustina".
From this diary of a young Polish nun, who received revelations, visions, and messages from Jesus and Our Lady in the 1930's, a special devotion to the mercy of God has been spreading throughout the world. The Sunday after Easter Sunday has been declared by Pope John Paul II as "Divine Mercy Sunday". This devotion, and the promises and favors that God has offered to those who follow it, are simply incredible.
If you have not heard of this devotion, or have not taken the time to learn about it or follow it, please, please, please take the time to do so and order this booklet !!!