---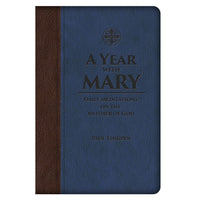 "Of Mary, there is never enough!"

Books about the Blessed Virgin abound, yet the words of St. Bernard of Clairvaux still ring true: "Of Mary, there is never enough!" She is a mystery that faithful Christians seek to understand more fully, an ocean "full of grace" still awaiting deeper exploration. 

In A Year with Mary: Daily Meditations on the Mother of God, best-selling Catholic author Paul Thigpen sets sail on that ocean, using as his map the profound insights of saints and other spiritual writers. These 365 reflections, drawn from their writings, reveal Mary's role in God's plan, the virtues she so perfectly models, and the rich benefits of Marian devotion.
The beautiful Premium UltraSoft gift edition features two-tone sewn binding, ribbon marker, gold edges, and designed interior pages.
388 pages.