---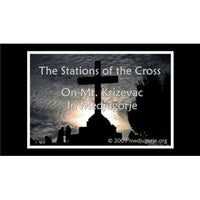 Praying the Stations of the Cross on Mount Krizevac in Medjugorje. Our inspiration was to attempt to create a "Stations of the Cross" that was as close to the experience of climbing Cross Mountain in Medjugorje as possible. For those who have been with us on pilgrimage to Medjugorje you can relive that experience, and for those who have not yet been to Medjugorje, you can also share in this powerful experience. The meditations are taken from "Mary's Way of the Cross".
This is a downloadable version rendered specifically for the iPhone and iPad. The download size is 247MB and runs 28 minutes in Length. After downloading you can sync it to your iPhone or iPad using itunes.
Also available in HD DVD rendered in 1920x1080 Widescreen HD available in NTSC format for the US, and PAL for European Countries. Please check in the Video Section.
For an Audio Only version please see our CD Section. You can watch a small size version of this video on our web site at: http://www.medjugorje.org/video.htm