---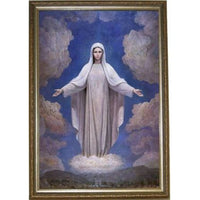 This is the same reproduction as our large canvas, but it is smaller and already framed. The size is approximately 16" x 22" and comes professionally pre-stretched, mounted, and framed.
Giclée Print Technology is a Hi Resolution Digital Ink Jet Printing process on large format for the purposes of fine art reproduction. The special UltraChrome Ink used is a high vibrancy pigmented ink developed by Epson. This ink, used in conjunction with specially engineered Epson fine art Canvas and Paper, creates "Fine Art" quality prints, which have an exceptional life span.
This Item is Shipped Separately, and is NOT available outside the US and Canada.