---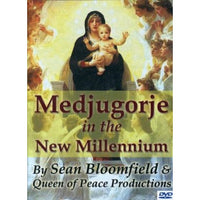 According to millions of believers, the Virgin Mary has been appearing to six people in Medjugorje since 1981.

Although much has changed in the village, the Queen of Peace continues to appear every day.

Medjugorje in the New Millennium, the first documentary by Sean Bloomfield and Queen of Peace Productions, gives an in-depth update on the heavenly miracles and secrets of Medjugorje.

You'll experience the mystery and beauty of this blessed village, witness interviews with visionaries, and see liquid flowing from a local statue of Jesus.

Learn about past miracles and the monumental ones prophesied to come.