---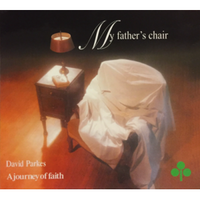 Copyright Irish Records International
Since his miraculous spiritual and physical healing in 1989, David Parkes' life has been blessed, but far from carefree. His ministry takes David away from his beloved family for weeks at a time.
David's oldest son, Ken, was born with Cystic Fibrosis, a debilitating disease for which there is no cure. After struggling with his illness all his young life, Ken was understandably frustrated, and he was angry with God. But God's love comes to us in unexpected ways.
In 1997, Ken made his own pilgrimage to Medjugorje. Much like his father, Ken was a reluctant pilgrim and expected nothing from his trip. However, as Ken himself writes: "Our Lady embraced me with love, a love I never experienced before ...". At home again, Ken wrote "Far Away", a song he had started months before, but whose meaning became clear to him only as a result of his spiritual healing on a hillside in Medjugorje. Today, Ken awaits a lung transplant, his only hope of survival. He struggles for every breath and, though each day he becomes physically weaker, his spirit continues to shine bright.
Track List:

1. Panis Angelicus
2. As I Kneel Before You
3. Holy Is His Name
4. I Would Be True
5. My Father's Chair - mp3
6. The Holy City
7. Benedictus Quivenit
8. Medley: Holy Ground; Alleluia; etc...
9. A Gaelic Blessing
10. Ag Croist an Siol (To Christ The Seed)
11. Not Too Far From Here
12. Jesu Me Ke Kanaka Waiwai
13. I Believe

   Bonus Tracks:
14. Prelude to Far Away
15. Far Away - Featuring David's son, Ken