---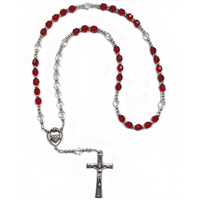 The Jesus Rosary was given to Jelena by Our Lady. 
It is handmade and strung on beading wire with 6mm red and clear Czech glass beads and 3mm stainless steel spacer beads. The center features the Sacred Heart on the front and Our Lady of Sorrows on the back. The crucifix comes from Medjugorje. Includes a card with instructions on how to say the rosary.
The rosary is configured with a crucifix, one bead on the tail for the Apostle's Creed, six sets of 5 Our Father beads and one set of 3 Our Father beads representing the 33 years of Jesus' life, and one set of 7 Glory Be beads dedicated to the Holy Spirit. Each mystery is preceded by a bead for the mystery meditation and prayer intention. Pray each mystery by announcing the mystery and meditating on the intention, praying the Our Father or Glory Be prayers, and concluding the mystery with the exclamation prayer.