---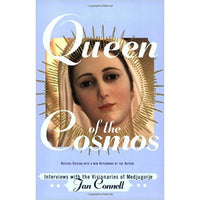 One of my personal favorites!!! This book is a beautiful collection of interviews with all the visionaries in Medjugorje; Vicka, Ivanka, Marija, Mirjana, Jakov, and Ivan, as well as two of the most popular priests of the time; Fr. Slavko Barbaric, and Fr. Philip Pavic. This is very very interesting and important reading!!!

Over twenty years ago, in the tiny mountain village of Medjugorje, Bosnia, six young people began to report seeing visions of the Virgin Mary. Since then, the beauty of Heaven and the importance of prayer, conversion, and reconciliation have been revealed to them through Mary´s appearances. Queen of the Cosmos provides an opportunity to hear the messages of the mother of Christ through in-depth interviews with the six visionaries of Medjugorje. Their experiences have changed the lives of thousands of people who have found truth, encouragement, and solace in the words of the Blessed Mother. This new edition includes an afterword by the author, giving an update on both the lives of the visionaries and the visions they receive.

Paperback. 166 pages.